Description:
Designed for the self-driven candidate seeking a straightforward, targeted, efficient, and focused learning process, enhancing content mastery and test-taking competence. Includes 6 months of access to online materials.

Show more views
Show less
Six EPPP Study Volumes
Study Volumes provide a concise but thorough review of the terms, concepts, theories, and research addressed by the exam.
Strategies Package
Effective study and test-taking strategies with techniques designed to help you maintain constructive attitudes, emotions, and beliefs.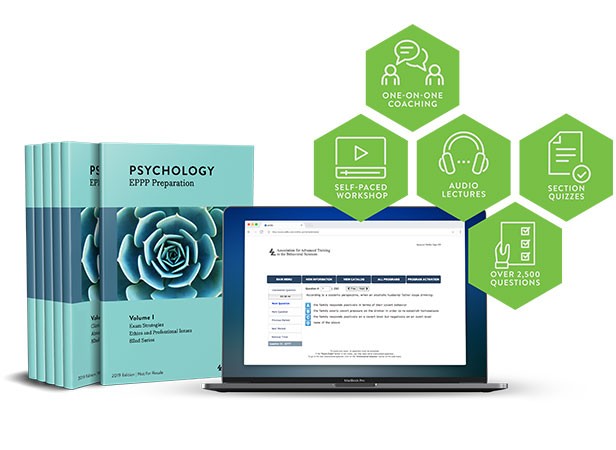 TestMASTER
The Ultimate Mock Exam Program with Over 2,500 Questions
6 months, Unlimited Access
8 full-length exams
Assessment Exam
Section Quizzes
Section Quizzes that correspond with Study Volume content
Take the exams as many times as you need during your 6-month subscriptions
Online EPPP Self-Paced Workshop
The recorded online Self-Paced Workshop reviews the scope and content of the EPPP. Like the live 4-Day Workshop, it includes presentations on the most heavily emphasized and most challenging content domains addressed by the EPPP.
Audio Lectures
Maximize your study time by studying during times when reading isn't convenient. Listen to example questions that demonstrate the application of the content knowledge and the effectiveness of test-taking strategies.
One-on-One Coaching
Personal assistance is available with our Coaches to help answer questions you may have during your studies! Our coaches are specially trained in effective preparation techniques and the demands of the licensing exam.
Package Protection Guarantee
Our Package Protection Guarantee ensures you can receive updated materials when new content is available. You can purchase now and have confidence that you will always be studying with the best materials.
We found other products you might like!