California Counseling Exams Bundle
Description:
Get everything you need to pass the CA LPCC NCMHCE and Law & Ethics Exam. This package was created to give you the essential study tools to prepare you for a successful examination process.
See our Pass Guarantee for more info.

Show more views
Show less
One Law and Ethics Exam Study Volume
Study Volume provide a concise but thorough review of the terms, concepts, theories, and research addressed by the California Law and Ethics Exam.
Three NCMHCE Study Volumes
Engaging Study Volumes covering the National Clinical Mental Health Counseling Exam content essentials.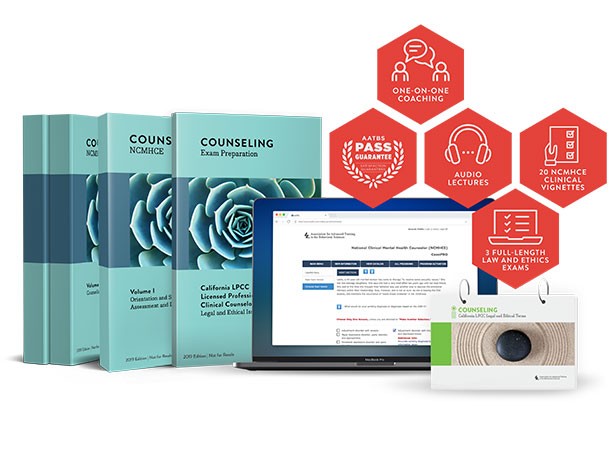 TestMASTER
Law and Ethics Practice Exam Program
4 months, Unlimited Access
3 full-length exams
225 practice questions
Take the exams as many times as you need during your 4-month subscriptions
CasePRO
Clinical Vignettes Program
6 months, Unlimited Access
20 Vignettes
Detailed rationales for each question
Revisions/updates added throughout the year
Hypnosis To Reduce Test Anxiety Lectures
Useful techniques for maintaining your motivation and reducing your anxiety about the examination process.
One-on-One Coaching
Personal assistance is available with our Coaches to help answer questions you may have during your studies! Our coaches are specially trained in effective preparation techniques and the demands of the licensing exam.
Package Protection Guarantee
Our Package Protection Guarantee ensures you can receive updated materials when new content is available. You can purchase now and have confidence that you will always be studying with the best materials.